With new law, president Evo Morales comes through on his promise of greater religious freedom.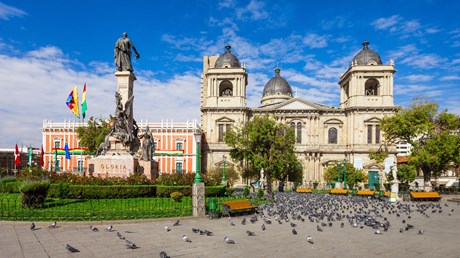 Evangelicals in Bolivia received a major religious freedom boost this week from the same administration that banned evangelism last year.
Months after Evo Morales criminalized proselytizing—before swiftly reversing course—the Bolivian president reached out to Christians to help draft legislation to recognize evangelical churches and institutions. This week, he made it official.
"With this law, all churches have the same rights," said Morales. "There is equality. There is neither a primary nor a secondary nor an underground church like before. Now it is a team effort and fight."
Munir Chiquie, president of the National Association of Evangelicals of Bolivia (ANDEB), called the law "a qualitative leap in the development and understanding of this fundamental freedom that is inseparable from the freedoms of worship, conscience and thought."
"Today is a day of celebration, it is a historic day," said Alberto Salcedo Peñaloza, who pastors Ekklesia Church, a megachurch in La Paz that published a bulletin on the good news. "There is now full freedom of conscience we have rights and also obligations, so all of in this beloved Bolivia, we can serve, support and to go forward. "
Before it was signed into law, a different evangelical group, the Association of United Churches of La Paz, complained that the bill failed to distinct churches in any meaningful way from NGOs and attacked ANDEB "as a minority group of associations, between these NGOs and foundations."
Bolivia's 10-year-old constitution declares a separation between church and state and established the country as a secular state. But the government had taken years to enumerate on the rights ...
from
http://feeds.christianitytoday.com/~r/christianitytoday/ctmag/~3/cNEZCNd9sI8/bolivia-gives-evangelicals-catholics-equal-rights.html