Historic confessions escape an Islamist, while Muslim converts pray for reform.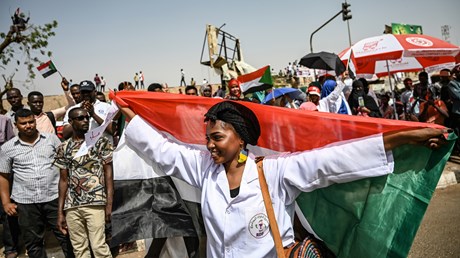 One of the early iconic martyrs of Sudan's recent protests was inspired by Christian oppression.
Shot dead by police while aiding protestors against the regime of 30-year dictator Omar al-Bashir, Babiker Salama—a 27-year-old doctor from an exclusive Khartoum suburb—was motivated in part by what he witnessed in the mountain region populated by one of Sudan's few Christian communities.
"We were not like the people in need," his sister toldThe New York Times in January. "We had nothing to do with politics."
Salama was sent by the military for a three-month stay. After performing emergency C-sections by the light of his cell phone, he volunteered to stay three months longer until a replacement could come.
The same military has now replaced Bashir, whose crimes include indiscriminate bombing in the Nuba Mountains.
And among the thousands who protested outside military headquarters demanding his overthrow were Sudanese Christians, from the mountainous community.
Open Doors ranks Sudan No. 6 on its list of nations where it is hardest to be a Christian, and in the top 10 since 2015.
Sudanese Coptic Orthodox Christians were also witnessed in revolt.
"It has a human and emotional impact and it draws a patriotic image Sudanese people long missed," political analyst Faisal Salih toldTheGuardian.
"Most importantly it shows a transformation in the position of the Coptics … who avoided getting involved in politics, except for a few of them."
The Sudanese Copts set up shelters for Muslim prayer, recalling images of cooperation from the 2011 Arab Spring in Egypt.
It is difficult from media analysis to judge whether or not Sudanese Christians—4.6 percent of the population, ...
from
http://feeds.christianitytoday.com/~r/christianitytoday/ctmag/~3/yQgAoTAergU/sudan-algeria-protests-christians-arab-spring.html