Current statistics about the secularization of American may come as a surprise.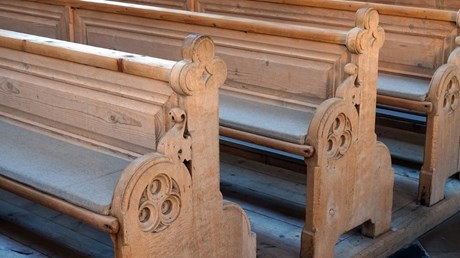 If you take a course in the sociology of religion at any college or university, the professor will inevitably spend some time on what is known as secularization theory. This theory posits that as societies become more economically prosperous and obtain higher levels of education, the inevitable result is a movement away from organized religion and toward secularization.
The famous psychiatrist Sigmund Freud was fond of comparing religion to a child's fairy tale and believed that as society becomes more focused on reason, it will drift away from religious faith. Karl Marx contended that religion was used as a tool to keep the masses from understanding how exploited they were by the ruling class.
Marx famously wrote that religion was "the opium of the people." The logical conclusion of secularization theory is that economic and educational progress is a fact of modern civilization and therefore the inevitable outcome is a casting off of religious beliefs.
The graph that is often offered to bolster this claim looks strikingly similar to the one below. The horizontal axis provides a good proxy for economic prosperity (gross national product per capita), while the vertical axis represents the overall level of religiosity in a nation.
The conclusion from this graph is clear: the more economic prosperity a nation enjoys, the fewer citizens of that country say that religion is very important. There are a few outliers, however. China is in the bottom left portion of the graph, which means that based on the country's economic output it should be more religious than it currently is, with the same occurring in Hungary.
Obviously, both of those countries have a history that is closely associated with communism, which ...
from
http://feeds.christianitytoday.com/~r/christianitytoday/ctmag/~3/PtjnQ-C3g98/is-religious-decline-inevitable-in-united-states.html